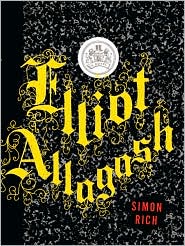 Elliot Allagash by Simon Rich, 2010 by Random House, Inc.; 224 pgs; Fiction-YA
Elliot Allagash is a rich, corrupt, masterminded schemer who begins his demise on Glendale prep school as a transferred eighth grader. Enter his victim and daresay friend, Seymour Herson, the lowliest of the low, for no particular reason which is probably the worse scenario. The narrator of this smartly written first novel easily plays the pawn in Elliot's game only to be trapped and learn the hard lesson of growing up.
Elliot possesses the underhanded evil that most people secretly wish to obtain. Yet he still possesses the soft belly of a lonely, unsupervised, privileged son that just wants to be loved by his father.
The book is a very quick read in the lines of Juno and Superbad meets Catcher and the Rye, where the unassumingly cool become geek chic, with Rich's intriguing characters whose prose is illusionary enough to picture the snarky smirk on Elliot's face. The two make an interesting pair to say the least, surviving grandiose plotting, lying, cheating, and the average tribulations of being teenagers.
I would say a definite read for those who cheer for the underdog, want an easy, entertaining read, like coming of age stories. The little quirks set it apart from typical high school drama.