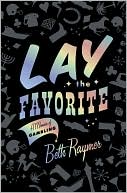 Lay The Favorite
-Beth Raymer/Spiegel&Grau/2010/p226
Memoir/Gambling/Travel/Life Insight
In 2001, Beth Raymer finds herself in Vegas, broke, reeling admist the bouts of a recent break-up, working in former boyfriend's parents' Thai restaurant, planning how to afford her $17 a night hotel room banking on cocktail waitressing as her best bet, all within the first few pages. In walks, Amy, a regular customer, who tips Beth on a job that will change her whole life. Dink, Inc. is run by Douglas "Dink" Heimowitz, CEO, operator and Beth's new boss who forays her into the world of underground sports-betting. As part of Dink's crew, Beth learns the in and outs of point spreads, betting lines and gambling lingo amid hundred dollar dinners and business trips that include five star hotel suites and first class air. Dink gladly takes Beth under his wing and she soon starts to have amorous feelings for him which quickly result in her termination.
To work off her steam, she begins to box at Johnny Tocco's where she is catapulted into a career as a professional with aspirations to win the amateur Golden Gloves tournament in Madison Square Gardens, exactly where Oscar De La Hoya got his start. However, money is always tight and she begins to itch for the taste of seedy money-making involvement she once had.
Beth becomes Bernard's Girl Friday, a quizzical mathematician turned bookie with a great pension and love for food. Beth simply gets him Boston creme doughnuts every morning. Bernard gets an idea to set up shop in the Caribbean where off-shoring gambling is risky but legal and takes Beth with him. Curacao is filled with exotic views and hot climates that reflect her testosterone and attitude-filled co-workers. She eventually finds herself back in NY, home with her dog and a man she loves, but itching to get back to Vegas and Dink who proves to be her mentor through and through. Exacting rightful revenge, she find herself flying to South America, going on the expedition she always dreamed of at the conclusion of the book.
I love the idea of this book. The world of gambling has become a prominent face in my life recently and much of its manner and characteristics have found a place in my world. It definitely reflected the gamblers who aren't the cliche mobsters with guns and drug addictions, betting everything on the line, although that's in there too. Beth is a great story teller, noting the detail and nature of her surroundings, definitely living a life full of stories and her endless travel-bound feet make sure the adventure never ends. However, by the end of the book I wanted to know more about Dinky and Bernard. I would love to read a book about them! They are characters within themselves, highly intelligent men gambling in order to create a challenge for themselves, yet yearning for some sort of stability that they can never settle down to reach, both full of insecurities and superstitions. Raymer puts a lot of detail into these men and their stories which I happen to like but doesn't really resonate much of a personal connection to her as a reader. The story had good pacing, moving fairly quickly between Beth's highs and lows, resulting in a quick, enjoyable read.
Definitely a great summer afternoon read! I read that it's being made into a movie, interested in who will be casted and how it will all play out.